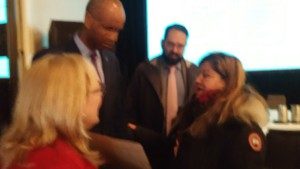 Delivered to Justin Trudeau's office in Montreal on November 27th, 2015
We are women and mothers who live and work in the shadows, invisible and excluded. We are addressing the public for the first time together.
We live in precarity because of our immigration status. Our precarious status threatens our security, our liberty as women, our rights as workers, our families. In many ways our futures, our dreams, are blocked. Our children – born here or living here for years – are terrorized by the constant menace of deportation, which threatens to tear them away from their schools, friends and communities, or even separate them from parents. Some families have already been broken apart by the deportation of a family member and only hope to one day be reunited.
Continue reading "Open Letter from the Non-Status Women's Collective of Montreal"